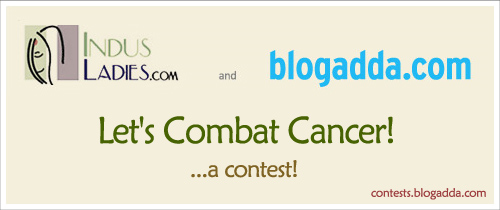 Here I am writing what I feel about the breast cancer and in generating awareness amongst women I want to make an effort on subconscious mind.I am not writing any story but my post is based on my perceptions for breast cancer victims.
Yesterday breast cancer said to the victim [those who quit ]
I am breast cancer,
I slowly progress in your body.
I hire your body'
make it tired;
deprive you from your stamina.
I am the breast cancer,
challenge you progressively.
I entered your body without your consent.
I become nodule to harass you psychologically.
Tomorrow I will become a lump,
will take out your strength from you.
You ignored me
and then one day;
I put all my claws on you,
tried to engulf you.
You believed in ignorance is bliss;
you hide me with your dressing sense.
I demeaned you to death
you quit and I won.
Today breast cancer said to the victim [with fighting spirit]
I am breast cancer.
I entered in your body without your consent.
You listened to your body and underwent a few tests.
You are too aware to be threatened;
you stopped me then and there.
I admit ,I quit and you won.
Why breast cancer would wanted to quit ? Its because you surrender yourselves to the fate and to the disease.If you want you can increase lifeline on your palm; all you need is will power.Don't hug the evil breast cancer and just cover it with clothing but examine yourself and got examined by doctor and worth yourself by following strict regimen given by your doctor. Be a winner and kick out this cancer out of your body.Lets say goodbye to the breast cancer.